My love of crafting seriously, began a few years ago, with Cross-Stitching.
Like most newbies to the art, I started with the free kits that came with magazines, (which I no longer buy), though they were free, I really enjoyed stitching them and liked how they turned out.
I did quite a few and collected more freebies than I dare to say, but anyways, here are the first five. More will be posted later, along with a piccie of all my unfinished and unopened kits lol
So let me start at the beginning, (you might want to click on them to view them properly, as blogger failed to upload them as small versions lol and the pics get cut off cussa the template);
Cinderella, the very first cross-stitch I did.
Staying with the Disney theme, here we have one of the 101 Dalmations. I enjoyed doing this one, simply because it didn't have too much complicated details and very little to stitch really lol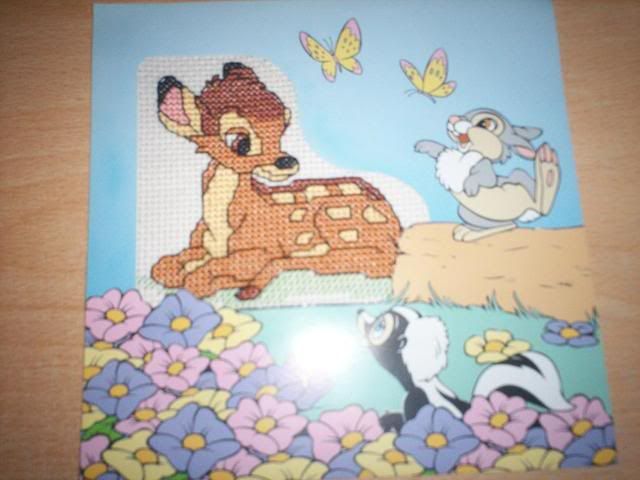 Again, staying with the Disney theme, here we have Bambi, this is one of my favourites because Bambi was the very first film I saw at the pictures (cinema). I think I was about 7 years old when my Mum took me. Obviously not the original black and white, as I am too young for that lol, but the re-released version in the 80's!
That's it for now, coming up will be more cards, then some Pooh related Cross-Stitching :)
Recipe:
Double sided sticky tape to attach the aida to the frames.
Sources:
Cinderella - Free with Quick&Easy CrossStitch Issue #? (Month & 2004/5?)
101 Dalmation - Free with Cross Stitch Crazy Issue #? (Month & 2004/5?)
Bambi - Free with Quick&Easy CrossStitch Issue #? (July/July 2004/5?)